If you want to delete or modify an existing vCenter / ESX(i) connection, follow the steps below: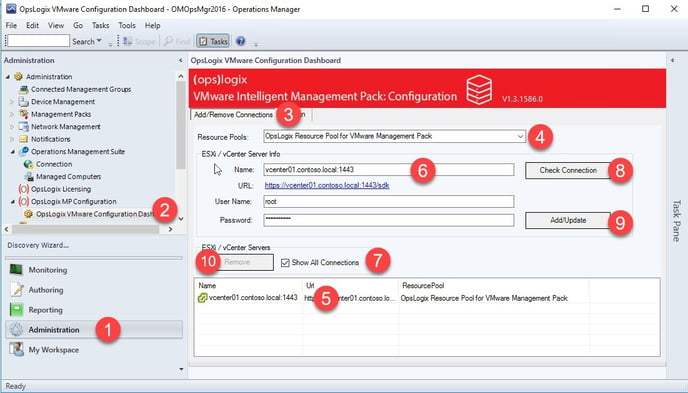 Navigate to Administration -> OpsLogix MP Configuration -> VMware IMP Configuration Dashboard and click the Add/Remove Connections See step 1, 2 and 3 in the picture.
On the Add/Remove Connections tab select the resource pool from which you would like to change the VMWare vCenter connection by using the Resource Pool dropdown box. See step 4 in the picture.
If you want to see all connections without selecting the correct resource pool from step 4 in the picture, you enable the checkbox Show All Instances. See step 7 in the picture.
Select the connection you want to change or remove. See step 5 in the picture. For remove only continue at step 10 in the picture.
Change the values as you prefer. See step 6 in the picture.
Click Check Connection and the connection will be tested using the selected monitoring host. See step 8 in the picture.
If the connection test is successful click Add/Update. See step 9 in the picture.
If you want to delete the selected connection, you press Remove. See step 10 in the picture.
Repeat these steps for all the VMware vCenter or ESX(i) Hosts you would like to modify.
Notice: After you have completed the adding of new hosts you will have to apply the hosts license assignments. Use the Assign tab to complete this step. Press refresh to list all ESX Hosts and select the hosts that you want to be monitored. Press update to save/active this Host license assignment.