SCOM 2022: What to expect and what you need to know
by Jonas Lenntun, on 08-Nov-2021 14:00:00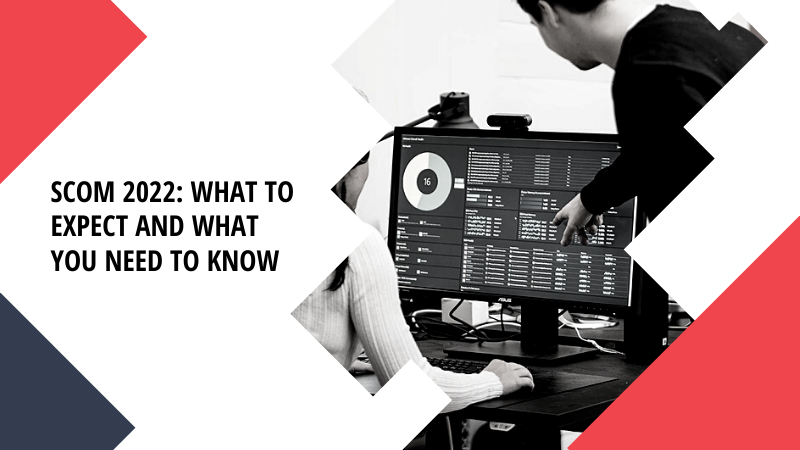 Microsoft System Center Operations Management team has been busy with new features and updates for SCOM. The most recent version, SCOM 2019, came out on March 14th, 2019. The release date for the upcoming SCOM 2022 has been announced to be globally available in Q1 2022.
This blog post will provide an overview of some of the features you can expect to see in SCOM 2022 and how those changes may affect your experience of SCOM monitoring as a user or customer. These include updated monitoring for Office 365, Azure Stack HCI, and Windows Server 2022 and more.
Version Agnostic Management Packs
More versions of management packs are likely to be transformed into version agnostic such as Active Directory Federations Services (ADFS), Microsoft Message Queuing (MSMQ) and Routing and Remote Access Service (RRAS).
There have been several indications suggesting that the following technologies could receive these updates as well, and then become version agnostic: 
Windows Server Cluster

Internet Information Services 8

DFS Namespaces
Updated Office 365 Monitoring
Microsoft has had several requests over the years asking for improvement in the monitoring of Office 365. The previous solution was insufficient as it only allowed the Office 365 Admin Center to detect limited events.
A completely rewritten version was announced in April 2021, and the Community Technical Preview was released. Even though this is not directly connected to SCOM 2022, we will continue to see continuous improvements in this area.
Read more: Office 365 Management Pack
Monitoring Azure Stack HCI
Azure Stack HCI is a new hyper-converged infrastructure (HCI) operating system that runs as an Azure service and delivers the most up-to-date security, performance, and feature improvements in your datacenter or at the edge.
It's possible that the free Hyper-V server will be phased out and that Azure Stack HCI will take its place.
I was disappointed that the Hyper-V Management Pack didn't include all the monitoring features that I felt were important. I'm hoping they will devote more effort to the Azure Stack HCI Management Pack as a result.
Monitoring Windows Server 2022
The next Windows Server 2022 is finally released. There are many improvements and new functionalities in this new Windows Server, especially from the security point of view.
For Microsoft to continue to support monitoring of their latest server operating system is an obvious priority. The support for Windows Server 2022 will likely be added to the Version Agnostic Management Pack for Windows Server.
Enhanced RBAC capabilities
With the release of SCOM 2022, Microsoft is enhancing the Role Based Access Control with the addition of two new user profiles.
Read-Only Administrator Profile

Delegated Administrator Profile
From the information communicated the Read-Only administrator will have permission to view everything in SCOM, including reporting. And the delegated Administrator Role included the same but without the Reporting capabilities.
The major difference is that the Delegated Administrator Profile can be used as a base profile when creating custom user roles where you add specific permissions on top such as Agent Management, Notifications Management, Reporting etc.
From a DevOps and automation perspective, this opens up a lot of great flexibility and granular control.
ITOM Compliant Alert Closure
If you ever integrated a ticketing system with bi-directional communication you probably had to deal with the new functionality that unhealthy monitor alerts couldn't be closed in SCOM 2019.
The idea of it wasn't that bad in general, but when implementing a connector in between you had to take this functionality into consideration. Now with SCOM 2022, you have the freedom to opt-in or out of this functionality.
If you want to know more about integrating SCOM with ServiceNow, don't forget to check out our SCOM Connector For ServiceNow.
Microsoft Teams Integration
There haven't been too many updates to the built-in functionality in SCOM for the channels over the years. But it has now been announced that Microsoft is including a native Microsoft Teams Channel in SCOM, replacing the old Skyper For Business Notifications.
I don't know at this point how it will work, but guessing it won't have the same bi-directional functionality as our own Microsoft Teams Connector for SCOM. So if you are interested, don't forget to check out our free connector for Microsoft Teams.
Other important updates
What can be assumed from the information above, Microsoft shows their commitment to the future development of SCOM monitoring, including new releases and listening in on user-voice requests.
What's also great is that we've seen an upgrade to a tool that we frequently use, the Workflow Analyzer. And Microsoft will continue to update the Visual Studio Authoring Extensions (VSAE) to support new versions of SCOM and Visual Studio.
Another intriguing and inspiring notion they suggest is to open-source some of the Management Pack development. I think this is a fantastic approach to get fixes out quickly while also educating the individuals who are devoting their time to improve monitoring for us all.
Summary
SCOM 2022 promises updates that will make the platform more competitive in today's world of cloud computing – it's not just "On-Premises" monitoring anymore with these new features focused on Azure Stack HCI, Office 365 monitoring and Azure in general. With the release in the Cloud, delivered as a Service - It seems as if SCOM will be with us for a long time. 
For now, let's see what the SCOM team has planned next!