We're hiring: SCOM Management Pack Developer
by Jonas Lenntun, on 09-May-2022 11:54:38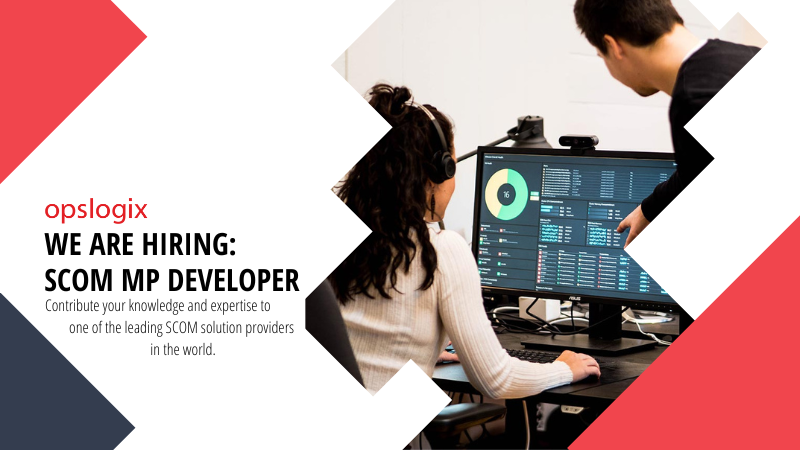 Do you have a passion for SCOM and creating Management Packs? Are you looking for an exciting new opportunity? If so, OpsLogix may be the perfect place for you!
We are currently looking for a Management Pack Developer to join our DevOps team to help us create world-leading management packs for SCOM.
The position is a great opportunity to work with a talented team of engineers and allows you to contribute your knowledge and expertise to one of the leading SCOM solution providers in the world.
Interested in joining us? Please send us your resume today!
About the position:
OpsLogix is a world-leading vendor of Management Packs, and we are looking for new talent to join our team. OpsLogix offers both products and services for Microsoft System Center Operations Manager. We are looking for individuals who are passionate about SCOM and Management Pack development, and who want to join us in our mission to provide the best SCOM solutions for our customers.
Responsibilities:
Design, develop, test and deploy Management Packs for SCOM
Work with other OpsLogix team members to create and maintain high-quality Management Packs
Provide second line support for our Management Packs
Provide SCOM expertise and guidance to other OpsLogix team members
Documentation and support in areas of responsibility
Requirements:
Robust knowledge of SCOM

Experience with SCOM and Management Pack development

The ability to troubleshoot SCOM
Knowledge of how to create, edit and maintain SCOM Management Packs in Visual Studio by editing the XML
Documentation of a Management Pack
Powershell scripting
Fluent in English

Ability to work independently as well as part of a team

Strong problem solving and troubleshooting skills
Optional skills:
Agile (Scrum)
Git
DevOps methodology
Azure DevOps
Containerized workloads and Kubernetes
Microsoft Azure
Location:
OpsLogix has offices in The Netherlands and Sweden but the position is also available remote. We welcome applicants from all countries.
Apply now:
'If you are interested in applying for this position, please send your resume to careers@opslogix.com. We look forward to hearing from you!