VMware Management Pack Update Release (21.11.2612.0)
by Michel Kamp, on 29-Nov-2021 13:00:00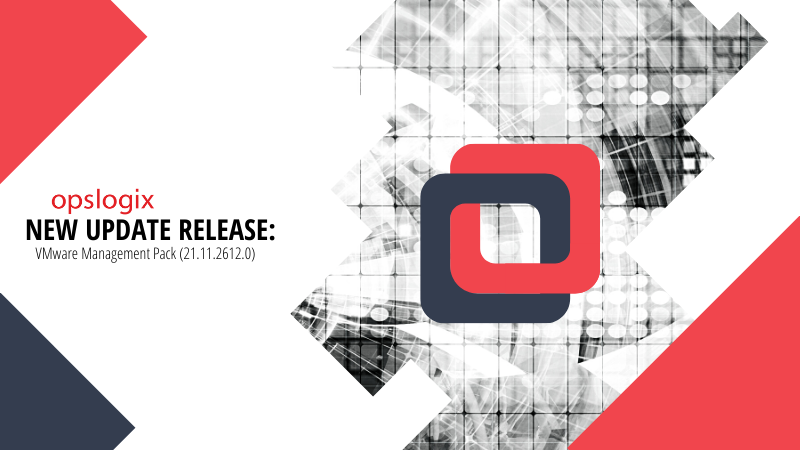 Finally, It's time for a new
VMware management pack
release, and yes, we heard you! A while ago we asked for your input and feedback in a
customer survey
. We worked hard to optimize and add new features according to your requests.

Some most significant features are mentioned and described in depth below, while you will find all newly added features, changes, and improvements in the release notes.
New
Warning box when you enable the split option
In the support folder from software bundle we have added an debug management pack that will gather OpsLogix related debug events when debug is enabled
We now monitor and alert when a Host is put into Standby Mode
We now monitor and alert when a Host is put into Quarantine Mode
We now monitor and alert when a Host is put into Maintenance Mode
Host Maintenance refection
One of the great user requests we received - thank you! When using the vCenter console to put an ESX host in maintenance mode, the same ESX host will also be put into SCOM maintenance mode.
When taking the host out of maintenance mode in vCenter, the SCOM maintenance mode end as well. This way, you won't get any false positive SCOM alerts while performing physical maintenance on the ESX hosts.
This feature is disabled by default and can be enabled with an override on the rule "VMware Reflect ESX Host Maintenance Mode."
(Over)Commitment monitoring
Another excellent request we received from a user regarding the black\white list feature - much appreciated! Using our (Over)commitment monitoring management pack, you can get insights into your VMware cluster resource commitment. We provide commitment calculation for CPU, Memory, and Datastore utilization for all cluster resources and generate an alert when an unhealthy commitment level is hit.
To make the commitment monitoring even more valuable, we now added a black\white list filter to have total control over the resources that should be taken into the calculation. This way, you can, for example, leave out virtual machine templates from the calculation.
This filter can be controlled using a RegEx override on the commitment monitors using property VirtualMachineFilter, DatastoreFilter, ClusterFilter. By default, all resources are included.
Debug management pack
Of course, our goal is to release solutions that are always working, but the reality is not always the same. To provide more insight into the VMware monitoring, we now offer a debug management pack that allows you to collect debug events from the VMware monitoring collector engines.
By default, the debug event collection is disabled. You have to use a particular SCOM task called "OpsLogix Enable Debug Events" or "OpsLogix Disable Debug Events" to enable or disable the debug event collection. After enabling, you will receive SCOM alerts of any warning or critical debug event, and also any debug event will be collected as a SCOM event.
You can control the collection event level by using a RegEx override EventLevelRegEx on the rules "Collect OpsLogix Debug Alerts" and "Collect OpsLogix Debug Events."
Fixed
When opening the VMware configuration dashboard on a small screen resolution some table rows would not be displayed
vCenter appliance monitoring could fail due to an incorrect monitoring account. See for fix online knowledgebase: "KB: VMware Appliance Monitoring VCSA fails due to access error"
Using the VMware configuration console to copy text from the fields was not possible using the CTRL+C key
Using the number of samples override to tune monitors doesn't result in the wanted behavior
Changed
vSan monitoring is now RTM


Additionally, this release contains a lot of UI and internal engine bug fixes.
Thank you all for the feature requests; keep them coming!
Note
The OpsLogix VMware Management Pack requires Microsoft System Center Operations Manager 2012 SP1, 2012 R2, 2016, 180x or 2019.

The OpsLogix VMware Management Pack makes use of Microsoft .NET Framework 4.5. It is required that Microsoft .NET Framework 4.5 is installed on all SCOM Management Server and Gateway Servers that are resource pool members in the resource pool used for VMware monitoring.

The Management Pack can be upgraded from VMware Management Pack version V1.3.8.x
If you want to know more, check out our Knowledge Base!
Download the new version in the customer portal.