VMware Monitoring: Why OpsLogix is the right choice for you
by OpsLogix, on 21-Dec-2021 13:15:00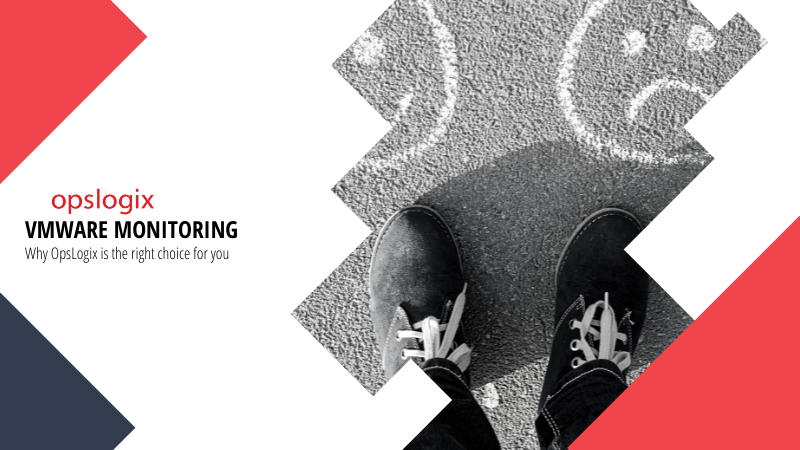 VMware is a market leader in multi-cloud services, allowing companies to innovate with control and enterprise governance. The company is constantly working on new updates, products, and improvements within the realm of security and digital workspaces, amongst others.
VMware
Last year, we wrote about the new vSphere 7 and containerization in "Future proof your VMware monitoring in SCOM." More recently, the new VMworld 2021 edition was held, where even more news and trends were discussed.
It's evident that things are happening in the world of VMware and that they continuously innovate and develop. This also has an effect on our Management Pack for VMware and how the products are aligned. Although some new features have a more significant influence on other aspects of VMware than monitoring, here are how the version of VMware 7 align with our MP:
Support for ESXi 5.5 – 7​

Support for vCenter 5.5 – 7​

Support for vSAN 6.7 – 7​

Support for Skyline Health 6.7 – 7​

Scale-Out functionality​

Optimized data collection​

vSphere with Kubernetes​ (under development)

Namespaces​

Workloads​

Resources​
Monitoring in Microsoft's SCOM
The Management Pack was designed and developed to be efficient, robust, and lightweight for both VMware and to minimize the performance footprint in Microsoft's System Center Operations Manager SCOM (SCOM) as much as possible. With templates and self-deploying components, the management pack is simple to set up and use.
Our monitoring solution is cost-effective, scalable, and of course enterprise-ready. We have implemented strict security measures with a zero-touch policy that allows for read-only user accounts and respect for firewall restrictions.
What to consider when choosing your Management Pack?
What should guide you in choosing a monitoring solution is simply the need of your IT department. The OpsLogix VMware MP is your best alternative on the market.
Since OpsLogix was founded in 2009, much focus and resources have been allocated to developing MP's that ensure efficient, robust, and lightweight monitoring - this one for your business-critical VMware components inside SCOM.
There are some key differences between OpsLogix and competing MP's. To briefly emphasize the benefits of our VMware MP, we have listed some significant features for you to compare with competing alternatives.
OpsLogix VMware MP
Competing solutions
1st and 2nd tier VMware alarms
Up to 3 tier VMware alarms
Primary reporting
More detailed assessments
No built-in capacity forecast tool (separate MP*)
Built-in capacity forecast tool
Enables discoveries and monitoring such as:

vSAN components
Tagging Service Provider
RAMDisk Monitoring
Skyline Monitoring

Doesn't enable the same discovery and monitoring
*Capacity Planning Reports Management Pack is a solution that generates forecasting reports for all objects within Microsoft's System Center Operations Manager data warehouse.
We developed a simple, yet secure and robust monitoring solution. Since this has been the main priority we have created a management pack that compared to other solutions on the market is both price-competitive and requires fewer SCOM resources.
For more information about the VMware Management Pack, you can contact sales or read the White Paper and Datasheet.
The best customer experience
Working with OpsLogix, you can be confident that we focus both on product quality and supporting services to enhance your work with SCOM. With extensive up-to-date knowledge and experience, we provide products and services that are at the forefront of monitoring.
Our support services consist of several digital content sources and personal support - knowledge base, videos, blogs, technical- and sales support. All to help you get the most out of your SCOM environment, MP's, and add-ons.
Learn more about our customer experience and how OpsLogix supports you with monitoring.
VMware and Log4j vulnerability
Last week we wrote about the Log4j vulnerability affecting several organizations and software vendors, including VMware. More information about the vulnerability and VMware can be found in "Conti ransomware uses Log4j bug to hack VMware vCenter servers".
The OpsLogix VMware Management Pack does not face this issue as Log4j is not included in any of our products.